NEWS
Ja Fabric パリ・ミラノ・ミュンヘン・ニューヨーク展示会出展情報
瀧定名古屋㈱ Ja Fabricは、7月に開催される様々な海外展示会に出展します。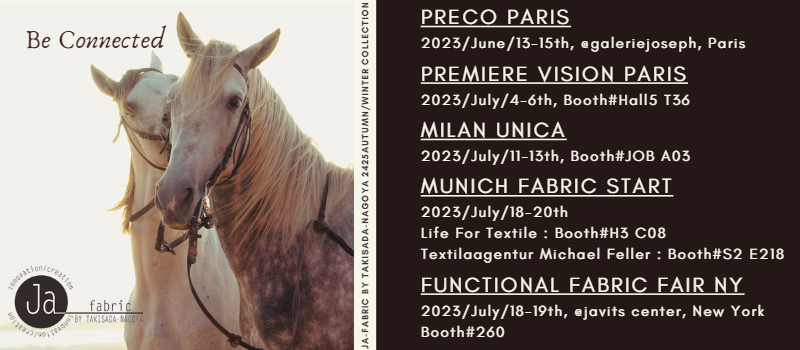 Premiere Vision Paris
2023/July/4-6th , Booth#Hall5 T36
Milano Unica
2023/July/11-13th, Booth#JOB A03
Munich Fabric Start
2023/July18-20th
Life For Textile:Booth#H3 C08
Textilaagentur Michael Feller:Booth#S2 E218
Functional Fabric Fair NY
2023/July/18-19th @javits center, New York Booth#260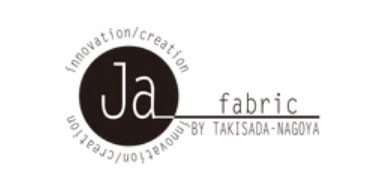 Ja-Fabric collectionは、
日本国内外のPartner Supplierとコラボレーションした商品や、
社内テキスタイルデザイナーが企画した商品を、海外顧客向けに
Curationしたコレクションです。

また、EN by Ja-fabric Labという新Lineを、海外展限定で展示します。
テキスタイルデザイナーと自家生産チームによる、
瀧定名古屋オリジナルのコレクションを、
今回は弊社と物理的にも歴史的にも縁(EN)の深いBISHU産地に
Focusし、発表します。
海外顧客と縁(EN)を紡ぐコレクションです。

詳細は、国際部までお問い合わせお願いします。

The Ja-Fabric collection is a curated collection of products that are a result of collaborations
between Partner Suppliers from both within Japan and overseas,
as well as products designed by in-house textile designers.
This collection is specifically curated for international customers.

In addition, a new line called "EN by Ja-Fabric Lab" will be showcased exclusively at international exhibitions.
This collection features original designs by the TAKISADA-NAGOYA production team and textile designers.
For this particular presentation, the focus will be on the BISHU region,
which holds significant historical and physical connections (EN) with our company.
This collection aims to establish connections (EN) with international customers.